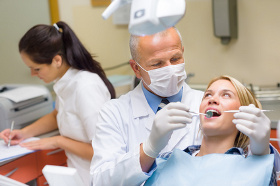 Professional dental services are available in Turkey at very attractive prices. The low costs of living in Turkey make it an ideal country for you to elect to have all your professional dental work performed in.
Because wages, rent and other expenses are comparatively lower in Turkey than in the US, Europe and many other countries, the prices for expert dental services are correspondingly lower as well. And of course the quality is equal or better to that you can receive anywhere else in the world. In beautiful Turkey, there's a comprehensive array of professional dental services available including:
Dental Implants
Zirconium Crowns
Porcelain Crowns
Teeth Bleaching (Whitening)
Removable Prosthesis
Panoramic X-Rays
Endodontics
Orthodontics
Dental Implants for 550 Euro – including abutement!
High quality
Experienced dentists
Including abutement
Every year, Turkey proudly receives thousands of international tourists who come specifically for its superior and affordable dental services.
One strong reason for that is because Turkey is world-famous for being one of the planet's most hospitable and friendly countries.
Turkish dentists, endodontists, orthodontists and other dental professionals deliver some of the world's most technologically advanced dental solutions in order to help their worldwide patients to:
Develop or redevelop radiant, proud smiles;
Receive titanium dental implants;
Enhance the appearance of teeth that have been cracked, chipped, broken or otherwise damaged;
Treat and alleviate the symptoms of various dental diseases, infections and disorders;
Be fitted with braces;
Receive zirconium, porcelain and other types of dental crowns;
Be fitted for removable or permanent dentures, full or partial;
Correct misalignments of the teeth, jaw bone and facial region;
Perform endodontic procedures like root canal treatments;
Whiten (bleach) their teeth and get rid of years-old stains;
Live with increased general dental health and much more!
Americans and Europeans find that the money they spend to travel to Turkey is more than recovered by what they save on the professional dental services they receive there. And of course, the added bonus is that they get to experience the stirring beauty and exciting culture of Turkey! Outstanding dental service quality, amazing savings, cultural enrichment and a new beautiful smile all await you in Turkey.