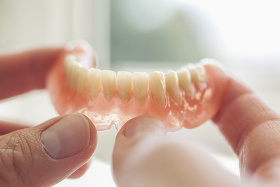 A removable dental prosthesis most commonly refers to a removable partial denture (RPD). The term can also be used to refer to set of removable full dentures. RPD's are very useful for restoring the lacking function and embarrassing appearance of broken, cracked, chipped, decayed and/or missing teeth. Removable prosthesis devices are excellent options for those who are unable to utilize a fixed partial denture. This may be caused by not having enough teeth to bridge between, or financial limitations, etc.
Benefits Of Removable Prosthesis
Restores function, appearance, smile and self-assurance;
Simpler to clean than a fixed prosthesis because it's easily removed;
Able to be extended in case of additional tooth loss;
More affordable than many other adequate options for dental care;
In cases where there are very few teeth to offer support for a removable prosthesis, a dental implant can be used to add central strength. The versatility of RPD's makes them attractive. Knowing that they can be integrated simply with other dental care options makes them convenient. Comfort, function and appearance issues can be very effectively alleviated.
The removable prosthesis (RPD) is a metal framework that holds the replacement teeth, attached to a pink-colored artificial gum. The apparatus attaches to your natural teeth with metal clasps. They may also be joined to the natural teeth with more aesthetically pleasing devices called "precision attachments" which are very difficult to see.
When you get fitted with a removable dental prosthesis, it will take a couple weeks to get used to wearing it. It may feel a bit cumbersome at first, but the surrounding soft tissues in your mouth will begin to accommodate it more and more, until you hardly even notice it's there anymore. You'll also need to pay close attention to the instructions of your dentist concerning removing and installing your RPD. Never force or bite down on it to get it into place.
After you are adapted to your new removable prosthesis, you will find eating to be a significantly more enjoyable experience. You may want to start out with foods that are soft, or at least cut into small bites. Experiment with your new teeth by chewing foods all over your mouth and testing the prosthesis for comfort and function. Overall, RPD's are well tolerated and very safe to have installed. Consult with your dental professional to get all the latest information about getting a removable dental prosthesis.