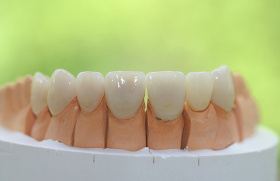 Having porcelain crowns installed over cracked, broken, chipped or otherwise damaged teeth restores their function and integrity – and also restores the confident smile of the patient. High-grade dental porcelain is able to be molded meticulously in order to custom match the shape and color of the tooth that is being crowned. Strength is returned, resilience is increased and the resistance to disease and decay are significantly enhanced.
A porcelain dental crown effectively replaces the entire visible portion of a tooth. It's notable that the crown can be manufactured to present more aesthetic value than did the tooth it covers. These crowns are attractive options for various cosmetic or necessary dental procedures. Of course, you should consult with your dental professional to find out if porcelain crowns are the best option for your particular dental scenario.
Types of Porcelain Crowns
Zirconium/Porcelain Crowns
Zirconium (zircon) dental crowns are constructed with zirconium as a base, and then layered with dental-grade porcelain. Zirconium is a chemical element (Zr) that is classified as a metallic transitional element. It is not a metal. It is derived from the rare mineral zircon. This type of porcelain crown is very popular largely due to the fact that, unlike metal/porcelain crowns, light is permitted to pass through, giving the crowns a much more natural look.
Porcelain/Metal Crowns
Fading in use, a metal base is used to support the porcelain crowns. Because light cannot pass through the metal base, these crowns often appear gray. They also commonly cause a black/gray ring at the gumline where the metal band is located. The best advantage to this type of porcelain crown is that it is strong and durable.
Solid Porcelain Crowns
Crowns manufactured from 100% porcelain are noted for providing the most natural looking appearance. This crown option does have a couple drawbacks though. First, they are not strong enough to be used on back teeth. Also, they require that more of a tooth is removed to fit them as they are thicker than some other crown options. This makes them more likely to be affected by gingival inflammation and or other long-term maintenance issues.
CEREC Porcelain Crowns
CEREC is an anagram for Chairside Economical Restoration of Esthetic Ceramics. It is a metal-free alternative for all-porcelain dental crowns. 3D imaging, CAD/CAM technologies and more are used to fabricate ceramic crowns for patients. This occurs in the dentist's office and is a very popular option for those that need rapid dental solutions.
It's notable that some patients feel increased sensitivity to hot and cold temperatures in the teeth that have been fitted with porcelain crowns. Otherwise, the procedure is very safe and the results are highly successful. The restoration of a smile's beauty and strength is very important, and porcelain crowns provide that.